NOIR EDIT DROP
Comfort Luxe- Noir Black edit for the traveller, free-spirited & lover of comfortable, premium curated shapes.
ABOUT AMIRA COLLECTIVE
AMIRA Collective is an ethically produced fashion label focusing on bringing love and soul into each garment.
Amira Collective is designed with curves and body confidence in mind because we believe fashion should be fun, not a challenge.
From the way the fabric drapes, to the extra coverage in the bust, and the comfortable elasticated details, this collection is thoughtfully made by women, for women.
Handcrafted in Bali using local techniques, we take pride in knowing our clothing is made in safe working environments and conditions that are good for people and our planet, including are cotton tote reusable packaging that each garment is carefully packaged in.
Our collections are designed to bring together and express ALL parts of you. Your softer side and your bolder side, your lighter side and your darker side.
Because, every side of you is beautiful.   
Australian Designed. Handcrafted in Indonesia. Made with love.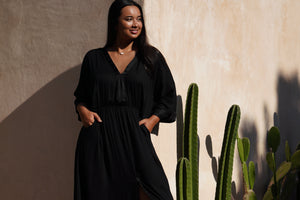 Supporting Slow Fashion at it's finest.
Don't let fashion go to waste.
We are a small business choosing to have a positive impact. With each collection we manufacture a small quantity.
Once our sizes or styles sell out we reward our patient community with a discount of 20% for them to pre order their choosen style.
Plan your wardrobe ahead of time & enjoy up to 20% reward for supporting the Pre order system.
Or if you need a Ready to Ship Item and need to look good ASAP? Order On demand fashion.
Produced sustainably on-demand, no overproduction involved.
Fast delivery guaranteed.
Collection
BEST SELLERS
Our best selling styles have been trialled and tested with our global nomads.
Shop now
"
Love my Freya maxi dress! I saw it on Stacey McGregs and fell in LOVE! I seriously wear it everywhere and feel confident everytime

"